Liar! Liar!...How to NOT Hire!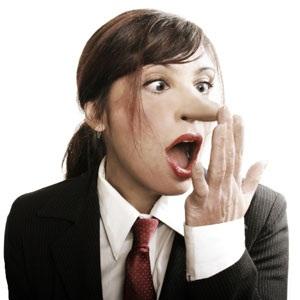 October 11, 2015
Surveys and studies show that lies by job applicants are on the rise, with reports of fables, fibs, and fabrications now as high as 50%. Given this disturbing trend, managers are turning to research-proven strategies to help level the playing field and expose even the most clever of con artists.
Though bestsellers like You Can't Lie to Me and Spy the Lie sport catchy titles, catching a liar is no easy task. Experts note that even the most sophisticated tools and techniques lead at best to a 50-60% detection rate. Law enforcement personnel may use polygraphs or "stress interviews," but HR and hiring managers must rely on less invasive measures to get to the truth.
Nevertheless, several hiring practices - most easy to implement - can be used to identify liars and help get them out of your candidate pool. We've compiled a "Top 10" list of strategies that are guaranteed to give you the upper hand and help you separate the cream from the corrupt:
Call and check every reference to verify the accuracy of academic and employment histories.
State clearly on the application that all references and previous employers will be contacted to determine the accuracy of information provided, including dates of employment, titles, salaries, etc. Make it clear that misstatements or false information will lead to immediate rejection.

Ask candidates specific questions about previous jobs and work settings, particularly when information presented seems vague or unclear. Delayed responses and/or vague or incomplete answers should be followed up with additional, more probing questions. Suspicions should be raised when job-seekers refuse to share information due to 'confidentiality.'

Rely on open-ended questions in your interviews. Personal probing is illegal for most positions, but the use of broad - and when possible, unexpected - questions may lead to revealing disclosures.
Perform at least 2 separate interviews in which the same questions are asked, comparing answers for consistency. (Structured, behavioral interviews have been shown to substantially increase the degree to which interviews can improve the prediction of post-hire performance.)
Use online tests that measure attitudes and behaviors that are frequently a source of candidate distortion (e.g., drug use, criminal history, work ethic, honesty). Despite frequent concerns about their validity, research has shown that some tools are significantly more accurate when compared to interviews and other measures of applicant honesty.
Use skill tests to assess candidates and assure that competencies claimed are real, not exaggerated or nonexistant.
Always complete a thorough background check before making a job offer.

Look into candidates' credit histories, particularly when hiring for positions that require financial skills. A history of poor money management may suggest problems with organization and attention-to-detail, leading some employers to exclude applicants based on credit history.

Inform potential hires that lies and distortions are cause for immediate dismissal; e

stablish a 6-month "probation period" during which new employees may be terminated from employment without statement or reason.
Have a strategy or tool that you've found helpful in selecting employees? Let us know! For more information on proven, easy-to-use selection tools and interview strategies, contact us at your convenience.